Source: RCI
Author: Martin Movilla
June 2, 2016 (Original publication in Spanish on January 4, 2017)
Translation: Jorge B.
The release of former Colombian Congressman Luis Fernando Almario was also celebrated in Canada. 
The Canadian Association for Rights and Truth  has been actively working on cases that have taken place in Latin America, being especially concerned with countries such as Colombia and Mexico.
Several people and groups in Canada closely followed the arrest and conviction of the former political leader thanks to the Canadian Association for Rights and Truth's involvement in the case. 
This group works to prove the innocence, obtain the release and defend the fundamental rights of persons wrongfully convicted or accused.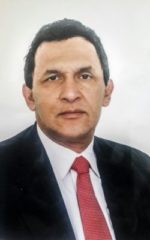 The case of the former Congressman was submitted by citizens in Canada to CART , which, after studying and analyzing it, began a national and international campaign to get the alleged irregularities committed in the "Almario Case" known.
Martín Movilla interviewed David Bertet, Chairman of the Association, about what happened in 2016 with Mr. Almario's release on probation and what to expect in this case in 2017.
In addition, the interview also deals with the case of the Canadian Judith Brassard who was sentenced in Colombia for her alleged involvement in her husband's murder.
Listen to the interview: here (In Spanish)