Source: CART EDIT
By S. A. Aram
September 22, 2016
Reviewed by Alicia Walcott
REPORT
Mohammad Ali Taheri was born on March 1956 in a western city of Iran, Kermanshah. He is a scholar, inventor, theorist and a spiritual teacher. Unfortunately, this has made a great trouble for him.
Mr. Taheri founded a school of thought called "Interuniversal Mysticism" or in Persian, Erfan-Keyhani (Halqeh). In this this school he introduced two forms of complementary Iranian medicine: Faradarmani & Psymentology.
The school offers several courses based on spiritual inspiration and provide a path toward the state of peacefulness which includes: peace with one's self, peace with God, peace with the universe, and peace with others. This ultimately leads to intuition and enlightenment of these topics:
•    Where do we come from?
•    Why we have been created?
•    What is our destiny?
•    And what is the purpose of creation?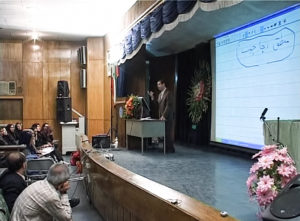 According to many spiritual and religious experts of Iran, there is no contrast between his system and religions such as Islam, Christianity, Judaism and so on; and it is based on love, peace and compassion. However, Taheri, who has always cared about peace and love and adhered to the law without any political tendencies, has been treated unkindly by the regime of Islamic Republic of Iran.
Here is a short description about his systems of complementary medicine:
According to his theories the healing can happen in the form of mind-body intervention by connecting to the cosmic consciousness without any physical manipulation or medications. Many people with incurable somatic and psychiatric disorders have successfully healed with this system without conventional medical intervention.
Mr. Taheri has served many local and foreign people through this system. Although his work was appreciated by Iran's authorities at first, the same appreciators created much trouble for him later. In the following, we summarize some of the problems that have arisen about his activities:
In summer 2006, Mr. Taheri founded an institution called "Interuniversal Mysticism Institute of Art and Culture" and held training courses which were met with open arms and soon became crowded lectures with over 500 students in each class. Several people from different generations, especially university students, medical doctors and psychologist attended these courses. The growing population of the classes and the type of participants made security forces suspicious and they began to disturb for different reasons. However, these courses continued until February 2008 but because of the forces of Sepah's Intelligence Service, Mr. Taheri eventually dismissed the classes.
After the closure of classes, Mr. Taheri signed an agreement with Tehran University and he began his courses there. The courses were held in Faculty of Veterinary Medicine which was the place for free courses and more than 3500 people attended those classes and received certificate from the university. But this time the university security said that they could not monitor the classes because of the high population and didn't allow the new classes to be held. So, for the second time, these classes were closed in January 2009.  
In May 2009, a four year agreement was signed between the Institute Interuniversal Mysticism and Iran School of Medical Sciences and Mr. Taheri began to hold his Psymentology courses there. The topic of this course was to study human mind, psyche and the related diseases and a method to treat these disorders without any medication. These classes were held in two groups of 1100 students in Razi Conventional Centre of the university. After the second session of class, again they closed the classes with an unreasonable excuse. They stated that they could no longer provide the security because it is close to election time.
In March 2010, an Islamic leader with Mr. Mansouri Larijani, who is an expert in Islamic mysticism, accompanied by Mr. Sharifi Doost, representative of the Supreme Leader in universities, held a discussion session and clearly agreed that they needed to get rid of Mr. Taheri. Following this session, the Intelligence Service of Sepah arrested Mr. Taheri for 67 days and kept him in a solitary cell because of acting against national security. With valuable efforts of his lawyer, Ms. Shadi Rasadi, it was proved that the accusation was erroneous and Mr. Taheri was released on 100 million Toman bail under the condition he pledge that neither he nor his students teach the Interuniversal Mysticism courses any longer.
However, he was granted the permission by the court to continue his research on the two branches of the Iranian complementary medicine: Faradarmani and Psymentology.  Despite their legal right, when the researchers referred to the hospitals, academic and research centers, it became apparent that they were prohibited and warned by a certain group/authorities not to continue further collaboration with Mr. Taheri and his team. As such, they were denied access to these facilities.
As a result, Mr. Taheri students decided to continue their research on various branches of the Faradarmani and Psymentology outside of Iran, resulting in three Honorary Doctorates degrees and several international awards and medals, which were presented to Mr. Taheri on April 2011 and broadcasted on national TV channels (IRIB) and several presses in Iran. This angered Iran's Sepah, leading to the arrest and imprisonment of Mr. Taheri within 24 hours based on no legal grounds the 12th of April, 2011. The reason for Taheri's arrest was briefly and verbally stated in one sentence, "What do we have to do if we do not want you to get awards for this country?"
After 22 days of his capture, through national television and public media under the control of revolutionary guards, Taheri's character and reputation was assassinated and tarnished through false accusation which led to a warrant for his arrest by National Security, heresy, corruption, blasphemy, acquiring illegal wealth and the illegal usage of academic title. Taheri was arrested again on 4 May 2011 without any legal authorization.
The method and the process of interrogation of Mr. Taheri by prison's intelligence unit of Sepah, go against the human rights law. A few examples of this include Mr. Taheri refused the right to call or visit with his lawyer or family members for months, solitary confinement year after year and taking him to the execution place and threatening him to immediate execution base on false court orders at mid-night time or early in the mornings. With these methods of torture, they create psychological warfare provoking a self-admitted confession. At the same time they were harassing and threatening his family members, children and siblings for the purpose of confession. These thousands (1000s) of interrogation sessions in the form of psychological torturing have turned physically violent on several occasions cases resulting in the damage of Taheri's eye sight all while leaving him a month with no access to doctors or treatment.
On October, 30th 2011, through  three  closed-door courts sessions  at the  26th Division of Islamic Revolution, under the ruling of the judge Pir Abbassy,  Mr. Taheri  was convicted of insulting religious figures and sentenced to five (5) years  in prison, seventy four (74) lashes and fined for  910,500,000.00 Toman (USD 1 million). The appointed judge for the purpose of imposing further pressure on Mr. Taheri convicted him based on several other false allegations to justify and extend the time to deny Mr. Taheri access to legal aid or a lawyer.  Up until the following court hearing, Mr. Taheri was still denied access to a lawyer. This acquired method by the judge was for the purpose of giving the authorities some additional time, since his ruling at the time was not justifiable for the conviction of "Insulting of the Religious Figures". Therefore, with the additional time the authorities received, they were in the position to further discussion among themselves, buy false witnesses and further publicly humiliate Mr. Taheri, who by then had more than two million followers globally who started to organize gatherings through digital media condemning the Regime's injustice against their beloved mentor, peaceful teacher and the fellow intellectual.    
On March 20, 2013, after 22 months without contact with the outside world, for the purpose of dental surgery, Mr. Taheri was given a six (6) day conditional release. During that time it became apparent to his followers that due to his continuous physical torture and numerous letters to the authorities in- and- outside of the prison regarding the prisoners' conditions (as per the global human rights' laws), Mr. Taheri went on a hunger strike, which alongside with the daily torturing, had severely damaged his health.    
During Mr. Taheri's six days release from the prison for dental surgery, many of his followers and students went to visit him. This demonstration of his popularity put more pressure on him by the revolutionary guards in the prison and resulted in Mr. Taheri going on hunger strikes again in opposition to his treatment and his fellow prisoners whom are constantly tortured.  The recognition of his defiant sate by the international community created another level of pressure on Mr. Taheri and led to the two-week imprisonment of his wife. Despite these pressures, he refused to give a false confession. By this time it was January 2014 and the Islamic Revolutionary Regime convicted him of the Capital Crime, Efsad-Fel-Arz, or "The spreader of corruption that threatens social and political well-being of the country and the enemy of God on Earth."
On December 2014, after four (4) years of suffering from psychological and physical torture and being convicted of the capital crime from the unjustifiable allegations, Mr. Taheri was appointed a lawyer and discontinued his hunger strike.
On the court date of February 25, 2015, more than 3000 people had gathered in front of the court house in silence, while being beaten and harassed by the revolutionary guards outside of the court house with metal bars, waiting for the ruling of the court by Mr. Ahmad Zadeh, the appointed judge. However, the judge decided to postpone the court ruling to a later date.
On March 11, 2015 the court resumed at the 26th Court Division with the same judge and the District Attorney for only two hours and due to the excessive unsubstantiated allegations and multitude of unsupported convictions, the court did not have enough time to investigate and rule accordingly. Therefore the court was postponed once again.
On August 2015, Taheri was sentenced to death by Tehran revolutionary court for the charge of "spreading corruption on earth." His family in Canada were in shock and fear that the life of their son and brother could be brutally taken from them for nothing more than the peaceful expression of his beliefs. Although in December 2015, the Iranian Supreme Court quashed Mohammad Ali Taheri's death sentence and returned his case to the Revolutionary Court in order to further investigate. He is now in his fifth year of solitary confinement and has begun a new hunger strike in protest. Mohammad Ali Taheri started a hunger strike on the 30th January, 2016 after the authorities in Section 2A of Tehran's Evin Prison, which is run by the Revolutionary Guards, told him that "he must get the thought of being released out of his mind".
Mohammad Ali Taheri was supposed to be released on 7th February 2016, after five years of imprisonment based on his legal verdict. Yet, for different reasons the judge has extended his detention period several times. One of the reasons for this extension was that he had not paid the fine based on the sentence for the charge of "gaining unlawful wealth"; however his lawyer has argued that this penalty does not have any legal base. For this reason, 7000 of Mr. Taheri's students together with healed patients by his complementary system, voluntarily collected nine billion IRR and deposited it to court on April 20, 2016 to show their support for Mr. Taheri and to stop the court from confiscating his properties. After payment of the fine Mr. Taheri's lawyer requested the application of Article 134 of punishment law for him. Nevertheless, revolutionary court refused to release Mohammad Ali Taheri and extended his detention for another twos month without any legal basis.
Mohammad Ali Taheri's Current Condition
Mr. Taheri was temporarily released from prison on 14th July 2016 to attend his daughter's wedding ceremony. He was released for only three hours under high security supervision. Security services did not allow him to attend the wedding reception and he was returned to prison immediately after the ceremony. The security forces reportedly secured and heavily guarded the area hours before Taheri was escorted to the ceremony.
Mohammad Ali Taheri's case is already completed in Judiciary and has been sent to Revolutionary Court to be judged for the new charge of "insulting prophet of Islam," which can lead to another death sentence for him.
As of to date,  some of the Revolutionary Regime's  public media without the official ruling from the court have been spreading propaganda against him and rumors about Mr. Taheri's execution.  This, an unconventional method known as "Silent Execution", is the Islamic Republic's first attempt to test the water before the formal announcement of the court's verdict for the second time due to Mr. Taheri's supports around globe. This is what makes us worry about his condition more than before. After brief study of his theories and opinions, common sense can attest to his innocence and conclude to the injustice of this verdict.
Mohammad Ali Taheri's Students  
After Mr. Taheri was arrested the 4th of May, 2011, Sepah started to arrest Taheri's students and heads of research committees and recorded their dictated confessions to be broadcasted on national television. To date, more than 200 of his students have been arrested by Revolutionary Sepah, namely: Nahid Behshid, Saeed Ardeshir, Pedram Saeedi, Yousof Eyvaz Zadeh, Mehri Soleimani, Mehdi Moradkhani, Dr. Vida Pirzadeh, Dr. Soroush Azemikhah, Dr. Sooshiant Azemikhah, Hojat Najafi, Dr. Parvin Paharzadeh, Mehdi Niroomanesh, Zahra Yazdani, Saleh Pazouki, Jalil Zadeh, Ziba Pourhabib, Baharin, Sara Dehnavi, Ali Delavari, Sara Saei, Horieh Mohseni, Mohammadreza Afshar, Ardeshir Shahnavaz, Mohammadreza Seddighi, Peyman Mirzaei, Fahimeh Arafi, Zahra Ebrahimi, Leila Jama'at and many others. Some are serving their sentences under the charge of blasphemy and disrupting public order while many others have left the country after they were threatened by the Intelligence Service of Sepah after their release from prison. After more than five years, they are still arresting active Faradarmani masters and people who support Mr. Taheri in Iran.